Ruinas del Rey
A must for those who arrive in Cancun, it is one of the few cultural spaces available in the hotel zone and is at the same time, an important refuge for many birds and reptiles who have found protection.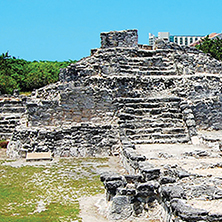 Ek Balam
Archeological site with beautiful detailed buildings and stucco finishes. The site is protected by two walls (around 300 BC) and starts with a great Mayan arch at the entrance.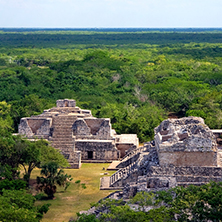 Chichén Itzá
Chichen Itza city was the most important city of the Maya area in the Classic Period. Now is one of the Seven Wonders of the Modern World that shows an impressive architecture and, as such, is the pyramid of El Castillo, the main building.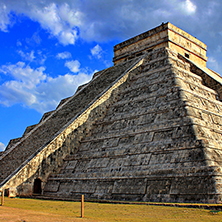 Uxmal & Ruta Puuc
Ancient city of the classical period and is located in the so-called Puuc area and is the most representative of this architectural style.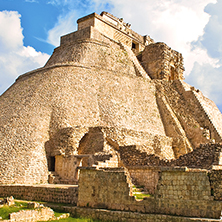 San Miguelito
These ruins are the second most important of Cancun, after the ruins of El Rey. We have identified two stages in its history: The first is located XIII to XIV century, and the most important buildings constructed. The second stage is estimated at the beginning of the campaign of conquest.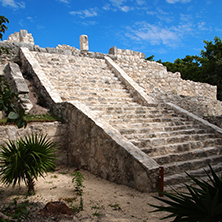 El meco
Small but important archaeological site of the Early Classic period (300-600 AD), during which time it was a village of fishermen dependent on a regional capital, the city of Coba. Located in nirthern Cancun, in Isla Mujeres Bay.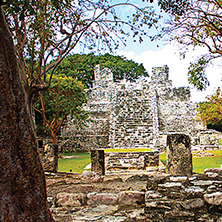 The Goddess Ixchel
Located in Punta Sur, Isla Mujeres, the Temple is a sample of the archaeological heritage of the Maya. Ixchel is the goddess of the moon, the wife of the Sun, considered the god of fertility with great healing powers.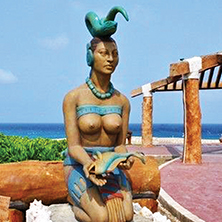 San Gervasio
Archaeological site of the pre-Columbian Mayan civilization. Known as Tantun Cuzamil, Mayan for Flat Rock in the place of the Swallows. The ruins were once a hub of worship of the goddess Ixchel, deity of the moon, childbirth, fertility, medicine, and weaving.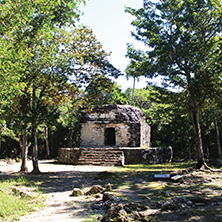 Tankah
Located a short distance from the village of Tulum, on the system of underground rivers Sac Actun, which is the largest in the world.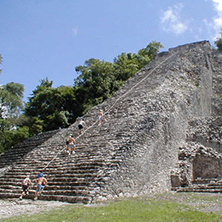 Tulum
It is now a major tourist attraction in the Riviera Maya, and next to it is the town of the same name. It is a city on a cliff from where you can appreciate the beauty of the Caribbean.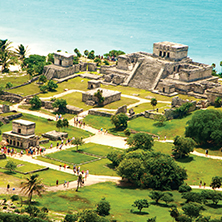 Cobá
Site that retains a wide variety of steale and calendars, where the Maya kept record on specific events such as wars, weddings, promotions to power, among others. Standing out as important temples: the church, the observatory and the Nohochmul.