Cancún Golf Club Pok Ta Pok
The first golf course in the region and which retains a special tradition for locals, this area has a par 3 at the 14th hole with a sea view and Isla Mujeres in the background, make it unique, but the wind is short, so plays an important role in the selection of the stick in this shot.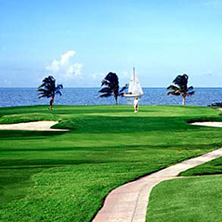 Iberostar Cancún
The 18th hole par 4 of 528 yards is a challenge to the accuracy, close the round in this hole can make you win or lose, as it is an islet where you must land your ball on the green. It is a shortstop but fun, with beautiful natural scenary. Unique in Cancun.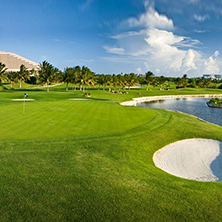 Riviera Cancún Golf Club
It is one of the areas with the highest slope of all because its fairways are very narrow, and the right Driver must be your best friend, if not, bring many extra balls. Its 10th hole is a short par 4 that with the tailwind and a good drive, a birdie chance is very high, take it.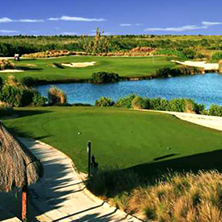 TPC Cancún Country Club
A special field TPC design which makes it a challenging course, the provision of all holes, the greens, fairways, and its design make it a dynamic field in which you will have to use all your skills to get a good score. In this golf course all holes are Beautiful.
The Moon Spa & Golf Club
It is the only one in the region with 27 holes, 9 called jungle, 9 called dunes and 9 called lakes. Is a challenging course where you can choose what kind of difficulties you want to practice, sand, water or jungle. You can spend all day playing if you are a golf enthusiast.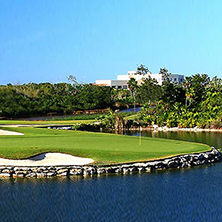 El Manglar Riviera Maya
If the approach and put are your abilities, this 18 holes course, all par 3, can not be missed. And if you do not have much time to play this is the place, in 2:30 hours you will do your round of golf and will enjoy the joy of making a lot of Birdies.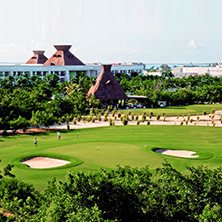 Playa Mujeres Golf Club
The wider fairways are found in this area, no out of bounds make it a friendly country, and par-3
15th hole has a unique flavor,where a trap left and the wind from the sea side, make it difficult to land the ball on the green, as it is at an elevation of 30 yards on 4 sides.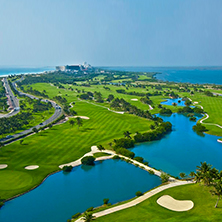 Iberostar Playa Paraíso
Undoubtedly one of the best courses in the region, a favorite of locals and tourists, where is played a qualifier the PGA, so do not miss it. Their ups and downs along the fairways and spectacular par 4 9th hole where from the tee at the bottom you will see a replica of Chichen Itza pyramid.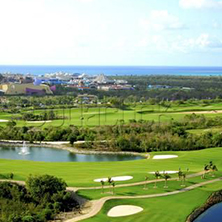 Cozumel Country Club
A course on the beautiful island of Cozumel, easy and short, but with a special design. Many wildlife accompanies you throughout your round: crocodiles, coatis, armadillos, egrets and more. The par 5 16th hole is a real challenge, the average shot is double bogey, so there you have a task to improve.
El Camaleón Mayakoba
The home of the PGA Mayakoba Golf Classic in Mexico. Is a delight to play the course, where everything is implecable. Talk about a special pit would be a discourtesy to all others, its design, and service are unsurpassed clubhouse, is a must in your list.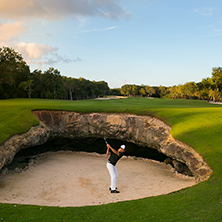 Grand Coral Riviera Maya
This course is newly opened, its design has many falls and drops in the fairway to throw your ball into the water or traps. Consider the point of your plan shots on every hole and preferably go with someone who knows this area. Here you will find natural scenery that will make your game more interesting.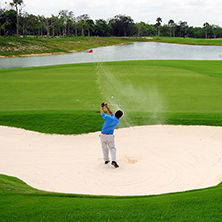 Playacar Golf Club
This is one of the most difficult courses of the region, so if you like challenges, you must come. Has some small caverns within the fairways, you must take care of your long distance shots to stay out of trouble. Sure find interesting here, where the surroundings are playing peacefully.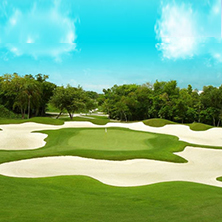 Riviera Maya Golf Club
The most spectacular and impressive course that exist in the region. It is a real beauty and pleasure play here. A cenote that is part of one hole and it truly is an experience performing and to calculate the shot on the fly. A course that will leave you astounded!