Hotel ME Cancún
-Salt: Mediterranean.
-Silk: Asian.
-The Water Grill: South America Grill.
-Beachhouse: Fusion.
-Chef: Heriberto Gómez.
-High: Urban indoors & Beach chic options.
-Average check p/pax: $50 USD
Four culinary concepts which allow you to travel the world through
cuisine fusioned with Caribbean accents. Heriberto Gomez is a disciple
of the Master Chefs Martin Berasastegui and Juan Maria Arzak.
-Phone:(998) 881•2500.
Villa Rolandi
-Cuisine:Swiss-Italian.
-Chef: Daniele Müller.
-High: Yacht transport service.
-Average check p/pax:$40 USD
Graduated from the prestigious school of Paul Bocuse, surprising
with contemporary swiss-italian specialties and his culinary influence
of the father of nouvelle cuisine.
-Phone: (998) 999•2000.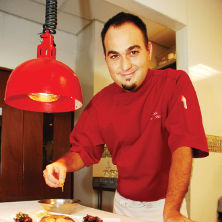 Hotel Paradisus
-Restaurant: Passion by MB
(Paradisus Playa del Carmen) Tempo (Paradisus Cancun)

-Cuisine: Signature.
-Chef: Martín Berasategui.
-High: Extensive wine list.
-Average check p/pax: $135 USD
With 6 Michelin stars, the famous spanish teacher presents a concept
signature cuisine with Basque dyes.
-Phone: TEMPO (998) 881•1100, PASSION (984) 877•3900
El Cozumeleño
-Cuisine: Fusion French, Mexican e Italian.
-Chef:Philippe Fournier.
-High: The chef is part of the prestigious Maîtres Cuisiniers de France.
-Average check p/pax: $50 USD
The tradition of French cuisine is enriched with gastronomic hues Mexico and Italy, making delicious meals that satisfy the most demanding palate.
-Phone: (997) 872•0050.
Mar de Maíz
-Cuisine: Mexican contemporary.
-Chef: Enrique Olvera.
-High:It is considered one of the 50 best chefs
in the world.
Specialist in Mexican cuisine, his proposal consists of taking typical Mexican dishes in their pure form and reinvent them using contemporary Techniques.
Hotel Grand Velas
-Restaurant: Piaf.
-Cuisine: French.
Chef: Michele Mustiere.
High: Recognized with 5 Diamonds (AAA) .
Average check p/pax: $60 USD
Passionate of cuisine based on classic French dishes with a contemporary style and delicate presentation, now satisfies the world's most demanding palates. He is one of the few chefs in the world recognized as Maître Cuisinier de France.
-Phone: (984) 877•4400.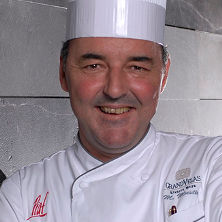 Hotel Grand Velas
-Restaurant: Signature.
-Cuisine: Signature.
-Chef: Bruno Oteiza.
-High: Menu 10 times .
-Average check p/pax: $150USD
Number 38 in the rank of the best chefs of the world, the intellectual creator of Cocina de Autor's menu, based on the rich cuisine of the Mexican Caribbean.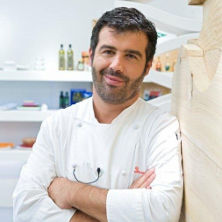 La Parrilla de Juan
-Cuisine: Fusión.
-Chef: Juan Grigorio.
-High: Ambiente Relajado.
Average check p/pax: $40 USD
With a culinary tradition of several decades, his
domain includes an exquisite combination of dishes based on seafood,
complementing the menu with exotic meats such as ostrich.
-Phone: (984) 875•245
Hotel Azul Sensatori
-Restaurant: Le Chique.
-Chef: Jonatan Gómez-Luna.
-Cuisine: Molecular.
-High: Menu 30 times.
-Average check p/pax: $60 USD
Disciple of Ferrán Adrià, winner of the Iron Chef of Toronto, Canada, pays
tribute to Mexican cuisine with regional accents.
-Phone: (998) 872•8450.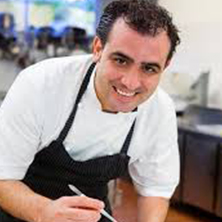 Hotel Oasis Sens
-Restaurant: Benazuza.
-Chef: Rafa Zafra.
-Cuisine:Fusion.
-High:1,500 cava wines.
-Cheque promedio p/pax: $70 USD.
Disciple of celebrity chef Ferrán Adrià, reinvents Mexican dishes through molecular cuisine.
-Phone: (998) 891•5000.